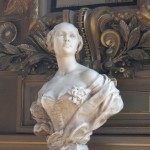 Things are quiet at the Emporium as our proprietor is in a new role in support of her household. Her recent work assignment involves database management. This temporary post is in an old Victorian building for a wonderful, small arts and cultural organization. The other offices in the building are rented by lawyers. Each office is tiny, so the place is a rabbit's warren of independent attorneys going about their work, quietly, with an occasional visit by couriers who bring boxes of files in and out.
She likes to think of database management work as following in the footsteps of Nathaniel Hawthorne and Herman Melville, who each worked at the Customs House in Boston. These posts inspired their work, clearly, and made it possible for them to support themselves. She especially thinks of the characters at their tasks in Melville's story Bartleby, the Scrivener.  (download a copy of this wonderful story here.) However, in the twenty-first century, our proprietor is not required to use a quill pen to copy names and addresses into the tomes and correspondence files.  All the same, those names inspire stories in one's mind, as one works through the changes and confirms zip codes and street addresses. Another phenomenon she has noticed is that after doing this kind of list maintenance in various forms, for multiple employers for 27+ years, the same names seem to come up, which is good. Or at least, they look Familiar. But there are always new ones, in many languages. It isn't boring and it's a great cause.
We'd also like to let readers know about another great cause: The East Bay Children's Book Project, created by Anne Katz, our dear friend. The proprietor has also been volunteering there. They give away donated books to children, teachers, classrooms and anyone who needs children's books. They have a new home. Go over to their site and see the goings-on! It is quite inspiring.