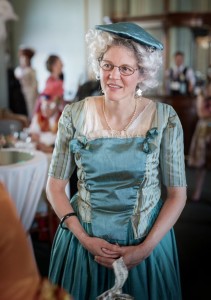 This photo above was taken at our friend Kristen Caven's book release party, an event called An Afternoon at Caffe Florian. It was held at the Bellevue Club in Oakland, CA.
Just prior to the Afternoon at the Bellevue Club, our Proprietor attended a dance with friends in Alameda, CA that was a Hogwart's Reunion Ball, hosted by PEERS.
Coming up in March of 2017, our Proprietor will be attending the Jane Austen Society of Northern California's Mini-Con at the San Mateo Library. She will be instructing students in the art of letter writing, using a variety of historically appropriate quill pens, ink, sealing wax and paper.
We are getting sponsors for this event, and the most prominent is the San Mateo Public Library, where last year's event was held and was a huge success.  So that's on Saturday, March 25, 2017, 12 Noon – 4:00 PM at 55 West 3rd Avenue, San Mateo, CA 94402. Many of us will be dressed up in our Regency attire, which is in no way required. And there will be presentations, dance instruction, lectures on various Jane Austen related topics and of course hands-on workshops like this one on Letter Writing, entitled,  "Creating Regency Letters with the Tools of Jane Austen's Time."